Range of fabrics
Your design printed all-over
Full-colour eco-friendly inks
Soft and comfortable
Customisable brand label
Compostable packaging
Sustainably printed
Quick worldwide delivery
Ships in 2 - 3 days
.
Premium tracked delivery:€9.95
Delivery options
We also offer
Wholesale and student discount from no minimum to bulk orders
View discounts
Explore what Contrado has to offer with our Starter box and build your brand with us
Product Description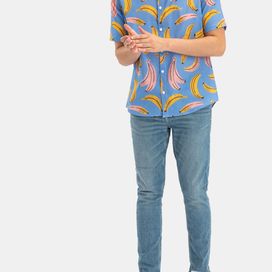 Look sharp even in a casual outfit with these custom button-up shirts. Use your art and patterns to design your own button-up shirt, which can be paired with a variety of shorts and trousers to create a full look. Choose from four fantastic fabrics which will be paired with black or white mother of pearl buttons. You'll even have the opportunity to add a custom label, which is ideal if you're offering this shirt in your online store.
Size Chart
Measure Yourself To Find The Right Size
Measure around your fullest part, with the measuring tape under your armpits, making sure the tape is flat across your back. You can then use the conversion size chart below to find the best fit based on your measurements.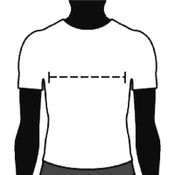 Size
Chest
2XS

88-91cm

34.6-35.8"

XS

92-95cm

36.2-37.4"

S.

96-99cm

37.7-38.9"

M.

100-103cm

39.3-40.5"

L.

104-107cm

40.9-42.1"

XL.

108-111cm

42.5-43.7"

2XL.

112-115cm

44-45.2"

3XL.

116-119cm

45.6-46.8"

4XL

120-123cm

47.2-48.4"

5XL

124-129cm

48.8-50.7"

6XL

130-135cm

51.2-53.1"

7XL

136-141cm

53.5-55.5"
View our full FAQs
Care instructions
Wash at 30°c, low tumble dry heat, hang to dry, do not wring, low heat iron.
How it works
Upload your design
We automatically apply your design to the product you selected
Make it perfect
Use our smart tools to get it exactly right and select the finishing options
Preview & checkout
Confirm your designs with our 3D previews and checkout with confidence
1-2 Days Production
Sit back and relax. Your product is on its way!
How our pricing works
Our pricing is based on the quantity and dimensions of the products you order. The more you order, the better price you'll get. We also offer lower pricing for larger dimensions, students, and wholesalers.
We offer discounts
We offer discounts on all our products, including bulk, quantity and student discounts. Enjoy great deals whether you're a small business, designer, or student.
Volume discount
Wholesale
Students
Based on Quantity
Up to 44%
Up to 10%

Discounts

Discount available. Price by selecting dimensions & quantity.

Find out more
Find out more
Range of fabrics
Your design printed all-over
Full-colour eco-friendly inks
Soft and comfortable
Customisable brand label
Compostable packaging
Sustainably printed
Quick worldwide delivery
Ships in 2 - 3 days
.
Premium tracked delivery:€9.95
Delivery options
We also offer
Wholesale and student discount from no minimum to bulk orders
View discounts
Explore what Contrado has to offer with our Starter box and build your brand with us
Help
More details
About Your Custom Button Up Shirts
When you create custom all over print button up shirts, you'll have seven areas to design. This includes the left and right side on the front, each sleeve, the back, collar, and your own label. This gives you an unrivaled amount of freedom to completely transform your garment. Use illustrations, photography, text, patterns and more to create a shirt that you'll be finding an excuse to wear everywhere.
You can choose from four lightweight and breathable fabrics for your shirt: Pima Lawn Cotton, Lino Linen, 100% Silk Satin and summer breeze Viscose. While Pima Lawn Cotton is beautifully light and made from 100% cotton, Lino Linen is 100% linen and a bit heavier with a crisp feel. Our Satin fabric, on the other hand, is floaty and made with pure silk for a dreamily soft touch. The 100% woven Viscose fabric choice is perfect for wear in the summer for its lustrous, soft feel.

Your custom button up shirts will have seven buttons, which come in your choice of white or black. These buttons have a sheen to the face and will catch the light nicely against the fabric. You can also choose black or white thread for all the stitching.

The back of your shirt is made from two pieces of fabric that will be stitched together, but you will design them as one panel in the interface. The collar is designed this way as well. The top of the back panel and the collar are double-lined inside, so we'll mirror your design. This will all be visualised for you in the design interface, where you can easily preview your design and make changes. Just note that we can't guarantee exact pattern alignment across panels, as each piece is made and sewn by hand.
Print guidelines & finishing
Print Guideline
What's the best resolution to print in?

We print at 200dpi, which is a good combination of quality and file weight. Ideally your image should be scaled to 100% at 200dpi; this means that no resizing of your file occurs, preventing any interpolation. Our design interface will have a quality marker next to the design that you have uploaded, this will change colour using a traffic light system and display a message. The message will let you know if the resolution is too low or if you have a good quality image.

How will my image scale?

When you upload your design our system will automatically scale it to fit your chosen fabric dimensions. In the 'Product Image' tab, the displayed dimensions under 'Print Size' will show the dimensions of the piece of fabric that you are ordering. For image/design dimensions you need to see the 'Images & Text Tools' tab. You can see and edit the dimensions of the image under the quality information next to the thumbnail.

Which colour model should I choose? RGB or CMYK?

We advise providing images in the RGB colour space. Specifically using the sRGB image profile, to achieve best colour results. What does this mean? In your editing software choose RGB as the working space, and assign the image profile as sRGB (full name sRGB IEC61966-2.1)

What is gsm?

Grams per square meter (gsm) is the unit of measurement used to measure the weight of a paper or fabric. This measurement uses the weight of one square metre (1000 x 1000mm) as an indication of the weight and thickness of a fabric. We classify fabrics of 10-100gsm as light (fabrics for summer, fine silk), fabrics of 101-249gsm as medium (most fabrics for clothing) and fabrics of more than 250gsm as thick (upholstery and other specialised fabrics).

What is the bleed area?

When creating your product, it is important to make sure that your image is a little wider than the size needed. In printing, the bleed area allows you to obtain a borderless print. We would advise filling the blead areas, maked with a red checkered area, to ensure you don't end up with white edges. You should make sure that you do not put important details within the bleed area as these will quite likely be lost.

What is crocking and why might it occur?

Crocking, which is fading along the creases, often after washing or heavy use, occurs when you digitally print on natural fabrics - more so when dark or dense colours are used. It can be minimised by using a cool hand wash instead of machine washing as the tumbling of the machine is the main cause of this. To avoid entirely, we would advise using a poly fabric.

Why do my colours appear lighter on organic fabrics?

Our organic fabrics do not have any coatings that the non-organic fabrics have. This means the ink absorbs into the fibres, reducing the colour strength slightly (by approx. -40%). For super strong colours we recommend a non-organic natural fabric.
Can you perfectly join two separately printed panels?

We always try to provide the utmost precision in printing and manufacturing. However, due to unavoidable stretching or movement of the fabric at the time of sewing, we can not guarantee a perfect alignment of the pattern on the seams of the garment. Generally we are accurate to 2-3mm, which is sufficient for most reasons but can pose minor problems with patterns or geometric designs.

Should I save my file as a TIFF or JPEG?

For multi-coloured or very detailed files we recommend using a tiff format, but they must be flattened. For simple colours and low detail files, a jpeg is fine.

Is it possible to print your own label?

Most of our clothing is made with a label space. You can print your label and add information about your brand. If you want to sew your own labels, we offer customizable labels of different sizes.

Can I print on both sides of the fabric?

We do not offer printing on both sides of the fabric, as a lot of our fabrics are semi-transparent. As the customer, you can consider the effect of printing on both sides one of our fabrics and contact us, and we will get back to you if it's feasible.

Can I order labels in another fabric? Will you cut them like you do with the normal fabric labels?

At the moment no, our labels are all printed on the same satin fabric. We may introduce more in the future, but for now this is the best choice. The labels are all cut the same way. You can order the fabric of your choice and make the labels yourself, but we do not cut different fabric into label format.

How is your fabric printing eco-friendly?

With environmental consciousness in mind, our fabrics are all printed using completely water-based inks. This means no chemicals or solvents are used. Our heat fixing procedure fixes the colours and prints, avoiding the downsides of steaming, such as excess or contaminated water returning into the waste system. We have one facility in London where we conduct all the printing, production and fulfillment.

Why are there slight colour differences between my orders?

We work at improving our colour profiles all the time. Though rare it may happen that from one print run to another, and there could be slight colour differences, this is normal and part of the process when we are constantly improving. It is extremely unlikely that there will be a huge difference (like orange instead of red for example). Please bear in mind such colour variations can be intensified from fabric to fabric due to the varying grains and textures of the fabric; natural fabrics tend to have more muted colours than their poly alternatives. This is due to the construction of the materials as well as the print methods that have to be altered slightly for more delicate, natural textiles.
Please note: As everything we provide is handmade to order, you may find a slight variance in the sizes.
FAQ
Does it come with extra buttons?
We'll include an extra button, which will be sewn onto the inner side label of your custom button up shirt. In case one falls off, you'll have an extra one that you can easily sew on to replace it.
Is the fabric breathable?
Absolutely. All four of our fabrics are lightweight and designed to let air flow through easily. These fabrics make your button-up shirt perfect for holidays and hot summers.
Is this for casual or formal wear?
The short sleeve style lends this shirt to all types of casual and less formal settings. But of course, it all depends on how you design your own button up shirt.