Duck feather or fibre pad
Bold colour with sharp details
Range of luxury fabrics
Piping in a range of colours
Custom branding option
Choices of zip colour & style
Sustainably printed
Quick worldwide delivery
Ships in 1 - 2 days
.
Ireland delivery from €9.95
Delivery options
We also offer
Wholesale and student discount from no minimum to bulk orders
View discounts
Check our gift cards,the perfect gift for you loved ones.
Product Description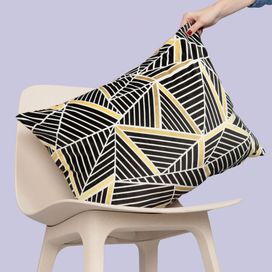 Custom printed cushions, made to order, using your designs makes for a chic addition to lounge areas, window displays and any other space that need some colour. 

Made from soft, high-quality fabric, these cushions were seriously born for your comfort. Available in six sizes with a choice of either duck feather or poly pad filling, you can create your version of the dreamiest custom-made cushions. Upload your own artwork, creative designs or illustrations to the design interface and make a statement with cushion printing.
Product size chart
You can then use the conversion size chart below to find the best fit based on your measurements.
Size
Width
Height
30.48 x 30.48 cm

30cm

12"

30cm

12"

40.64 x 40.64 cm

40cm

16"

40cm

16"

60.96 x 60.96 cm

60cm

24"

60cm

24"

20x20"

50cm

20"

50cm

20"

22x16"

55cm

22"

40cm

16"

20x12"

50cm

20"

35cm

14"
Care instructions
Wash at 30°c, low tumble dry heat, hang to dry, do not wring, low heat iron.
How it works
Upload your design
We automatically apply your design to the product you selected
Make it perfect
Use our smart tools to get it exactly right and select the finishing options
Preview & checkout
Confirm your designs with our 3D previews and checkout with confidence
1-2 Days Production
Sit back and relax. Your product is on its way!
How our pricing works
Our pricing is based on the quantity and dimensions of the products you order. The more you order, the better price you'll get. We also offer lower pricing for larger dimensions, students, and wholesalers.
We offer discounts
We offer discounts on all our products, including bulk, quantity and student discounts. Enjoy great deals whether you're a small business, designer, or student.
Volume discount
Wholesale
Students
Based on Quantity
Up to 44%
Up to 10%

Discounts

Discount available. Price by selecting dimensions & quantity.

Find out more
Find out more
Duck feather or fibre pad
Bold colour with sharp details
Range of luxury fabrics
Piping in a range of colours
Custom branding option
Choices of zip colour & style
Sustainably printed
Quick worldwide delivery
Ships in 1 - 2 days
.
Ireland delivery from €9.95
Delivery options
We also offer
Wholesale and student discount from no minimum to bulk orders
View discounts
Check our gift cards,the perfect gift for you loved ones.
Help
More details
About your Printed Cushions
Your cushions are made from your choice of the five softest fabrics and filled with either a duck feather or poly padding, both of which are equally soft and plump. They come in six sizes and are simply perfect for adding a touch of elegance and style to your seating areas. Cotton Linen is our 100% natural option, made with a breathable, plain weave for an ultra-comfortable feel. Our luxurious Soft Velvet is a dream to stroke, and like our other Shimmer Velvet, Herringbone and Archway Brushed Twill choices, it's a poly fabric designed for its strength and long-wear. Whatever your fabric choice, you can count on a soft, brushed face for the nicest lounging experience.
Contrado's cushion printing service allows you to print your design on both sides, essentially giving you two custom-made cushions in one and maximum impact. Or for a more simplistic look, choose from soft pink, pale blue, ivory beige, grey or white for the reverse of your custom printed cushions, UK made to order. When you send your design for cushion printing, you'll end up with a stunningly soft, chic cushion with a removable cover that's totally machine washable.
At a glance
Double-sided cushion printing option
Square or heart-shaped zip puller
Choose from five fabrics
Feather or poly fibre filling pad
A comfortable, cosy cushion
Dimensions
Small square cushion: 30cm sq. (12")
Small square cushion: 40cm sq. (16") 220g
Large square cushion: 50cm sq. (20") 340g
Largest square cushion: 60cm sq. (24")
Large rectangle cushion: 55x40cm (22x16") 560g
Medium rectangle cushion: 50x35cm (20x14")
How Cushion Printing Works
We print your designs edge-to-edge using specialist dye sublimation, where the inks fuse deep into the fibres creating a long-lasting print. For our 100% natural Cotton Linen fabric choice, we use another eco-friendly printing process called pigment printing to bind the colours in your prints to the surface of the fabric. The cover is handmade, filled with your chosen padding and finished with a chic heart zip pendant. The option to print your designs on the reverse, too, allows you to coordinate your style and mix and match patterns, giving your space an edgy, eclectic vibe. Alternatively, you can choose from five colours for the back of your cushion printing.
Design Tips
The print reproduction on the cushions is high definition, with colours and intricate detailing showing up extremely well. You can print bold contrasting colours for a stark design, or opt for neutral tones for that minimalist vibe. Whatever you design, cushion printing is a great way to draw attention to specific areas. This is perfect for branding and events, where you can display your logo in relaxation areas for customers.
How does this product enhance my...
Home
Custom printed cushions featuring designs that reflect your individual style and interior design are perfect for decorating seating areas. Scatter bay window ledges with these velvet cushions or keep them on the living room sofa and combine style with comfort. As both sides can be customised, this gives you the opportunity to experiment with different styles and change the aesthetic of a room without hassle.
Business
If you're putting on an event, make the most of the breakout areas and seating space with printed cushions emblazoned with your logo. Beautifully printed and super soft, custom cushions help delegates make stronger associations with your brand, as well as enticing them to engage in your event space. Hotels, airport lounges, office receptions and restaurants can also benefit from cushion printing.
Design Brand
Expand your design brand's repertoire with custom cushions printed with your unique artwork. The home interiors market is huge and people are always on the lookout for quirky and different furnishings that align with their style preferences. Handmade using the finest materials and sustainable processes, you can offer customers a responsible option for decorating their home.
Print guidelines & finishing
Print Guideline
What's the best resolution to print in?

We print at 200dpi, which is a good combination of quality and file weight. Ideally, your image should be scaled to 100% at 200dpi, this means that no resizing of your file occurs stopping any interpolation.

Should I save my file as a TIFF or JPEG?

For multi-coloured or very detailed files we recommend using a tiff format, but they must be flattened. For simple colours and low detail files, a jpeg is fine.

Which colour model should I choose? RGB or CMYK?

We advise providing images in the RGB colour space. Specifically using the sRGB image profile, to achieve best colour results.What does this mean? In your editing software choose RGB as the working space, and assign the image profile as sRGB (full name sRGB IEC61966-2.1)

What does GSM mean?

Grams per Square Meter (GSM) is an international standard for measuring the weight of paper or fabric. GSM uses the weight of a square meter (1000 x 1000mm) as an indication of the weight and thickness of a given fabric. We class 20-100gsm as light (summer fabrics, gauzes and fine silks), 101-249 gsm as medium (most clothing fabrics) and 250+ gsm as heavy (upholstery fabrics, and other specialist fabrics).

What are bleed areas?

When designing your product, it's best to make sure that your image is slightly larger than needed. In printing, the extra printed image is referred to as a "Bleed Area" or margin, and it is removed from the finished piece. A bleed area acts as a buffer for slight inconsistencies in the manufacturing process. however, it's important to fill your bleed areas completely, or you may end up with white, unprinted strips along the edge of your finished product.
Do you print on garments a customer supplies?

Unfortunately not. All our garments are printed on flat fabric and sewn into finished products, which gives a better-finished result and all-over print. We test meticulously so that we know what gets the best results on our fabrics, and our facilities cater perfectly to them. We do however print sublimation paper to order, so if you have access to a heat press you can press your fabrics or flat garments easily.

Can you Align a Pattern or design across panels of a garment?

We always strive for the greatest accuracy when printing and constructing your garments. However, due to unavoidable stretch or movement of the fabric during the stitching process, we cannot guarantee perfect pattern registration across garment seams. We are generally accurate within 2-3mm, which is close enough for most patterns but may show slight issues with detailed geometric patterns.

Can I print my own Labels?

Most of our garments now come with printable label space for you to add your own company information and branding! If you would like to sew in your own labels, we also offer Printed Fabric Labels here.

How is your fabric printing eco-friendly?

With environmental consciousness in mind, our fabrics are all printed using completely water-based inks. This means no chemicals or solvents are used. Our heat fixing procedure fixes the colours and prints, avoiding the downsides of steaming, such as excess or contaminated water returning into the waste system. We have one facility where we conduct all the printing, production and fulfilment.
Please note: As everything we provide is handmade to order, all measurements may vary slightly.
FAQ
Do I have to print both sides?
There's the option to have both sides printed with your unique designs, however you can simply choose a complementary colour for the back of your cushion; soft pink, pale blue, ivory beige, white or grey.
Does it come with the cushion pad included?
Yes, this isn't just cushion printing, it is an entirely brand new cushion for your living room or seating space. Choose from either duck feather or an equally soft and allergen-free poly pad filling.
What sizes are available?
Your custom cushions are available in 6 sizes and different shapes. Choose from a 30x30cm square, 40x40cm square , 50x50cm square or 60cmx60cm. Rectangle shapes are available in 50x35cm or 55x40cm rectangle.